Home
---
LOCATION
2100 Park Blvd San Diego, CA 92101
619/ 230-1190 fax 230-1219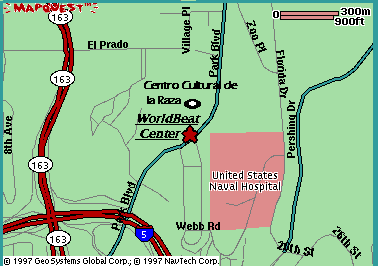 click on Map to browse
Located in Balboa Park's Pepper Grove, the WorldBeat Center is the only institution in the park dedicated to African and African-American arts and culture.
---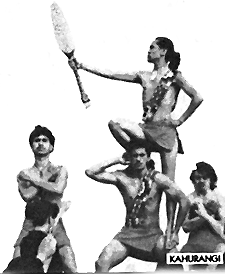 Through collaborative programming, WorldBeat and the Centro share an outdoor amphitheater situated between the two cultural centers and used for cermonial dances and other rituals. Balboa Park is a major cultural tourist destination that attracts local, regional, national and international visitors who expect to see and experience the cultural contributions of all San Diego's citizens. WorldBeat Center fills an existing void by becoming the only institution in the park that is dedicated to African and African-American arts and culture.
WorldBeat Center is a combination performance and workshop space presenting art exhibits, film festivals and other performing arts events, as well as workshops on Black history and culture, sound engineering, lighting design, broadcasting and video production. It also serves as a clearinghouse for small, emerging organizations.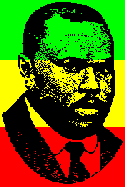 "A people without the knowledge of their history is like a tree planted without its roots." -
Marcus Mosiah Garvey
---
Featured Event

---
Calendar - other events at the WorldBeat Center, featuring reggae and African music & culture or the notable work of our good friends
Classes & Regular Meetings - at the WorldBeat Center
people - staff, friends & associates of the WorldBeat Center
place - location of the WorldBeat Center
---

For More Information, Contact

Makeda Dread

---

To accomplish our promotions and activities, WorldBeat Productions relies heavily on the work of committed volunteers and supporters. We have also received funding from the California Arts Council, COMBO, and the City of San Diego Commission for Arts and Culture.
We need volunteers to help distribute flyers, make telephone calls, and do the necessary fundraising work for the WorldBeat Center.
All contributions are greatly appreciated. As a nonprofit organization, donations to the WorldBeat Center and WorldBeat Productions are tax deductible.
---
Listen to Reggae Makosa Sunday nights 8-10pm on 91X radio.
---
Not enough ?
Catch WorldBeat Community Radio on KWBC 89.1 FM